STAPLES, 5,000 Box for Formax FD 160 and FD 180 Model Booklet Makers Staple Box FD160 FD180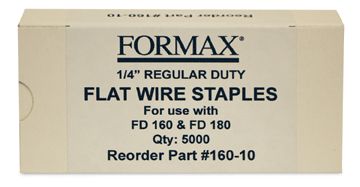 STAPLES, 5,000 Box for Formax FD 160 and FD 180 Model Booklet Makers Staple Box FD160 FD180
*** CONTACT US TO CONFIRM THE CURRENT PRICE AND THE AVAILABILITY FOR SALE!
STAPLES - One 5,000 Staple Box for FORMAX Models FD 160 and FD 180 Booklet Makers P/N 160-10
US 48 State shipping at $12,95 per box.  Please contact for other shipping options
SHIPPING IS CALCULATED FOR USA OR CANADA ONLY.  ONLY ORDER THIS ITEM IF SHIPPING TO USA OR CANADA.  IF THIS ORDER IS PLACED TO A FOREIGN NATION, IT WILL BE CANCELLED.

Reviews