RUBBER BANDS, USPS Approved #64, 3.5" X 1/4" Latex One 50 lbs. CASE (Approx. 21,250 bands) Band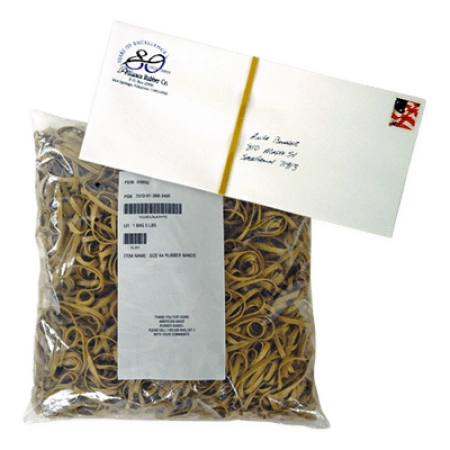 RUBBER BANDS, USPS Approved #64, 3.5" X 1/4" Latex One 50 lbs. CASE (Approx. 21,250 bands) Band
Rubber Bands, One 50 lb. CASE (Contains approximately 21,250 bands - TEN 5 Lbs. BAGS)  Latex 3.5" X 1/4"
#64 Type - Postal Approved Standard
SHIPPING IS CALCULATED FOR USA OR CANADA ONLY.  ONLY ORDER THIS ITEM IF SHIPPING TO USA OR CANADA.  IF THIS ORDER IS PLACED TO A FOREIGN NATION, IT WILL BE CANCELLED.

Reviews