PROFOLD Tabbing, Wafer Seal Machine Model PRO PLUS II LH Left Hand Pro+ II Floor Model Tabber Tabbers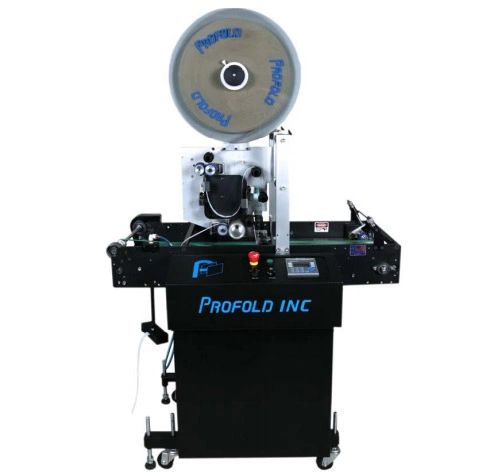 PROFOLD Tabbing, Wafer Seal Machine Model PRO PLUS II LH Left Hand Pro+ II Floor Model Tabber Tabbers
PROFOLD PRO PLUS 2 Tabber Wafer Seal Machine. New Left Handed Unit. High Speed floor model tabbing for inline operations.
Applies Tabs, Wafer Seals, Stamps, Labels, and Post-It Notes (Post-It notes require the 4.5" added width option). No height adjustment but includes casters.
Requires a separate feeder. Also requires build time. PLEASE CONTACT US FOR OUR LATEST DISCOUNT PRICE !
PRICING IS FOR LOCAL PICKUP ONLY - CONTACT US TO CALCULATE SHIPPING TO YOUR LOCATION. MANY OPTIONS LISTED UNDER ' NEW PARTS '.

The LINX PRO+ TABBER is Profold's newest addition to its Tabber line-up and has been designed to respond to customer requests we've received for a Tabber that combines the proven abilities of the Linx Tabber family with the new benefits provided by the RSC Tabber without increasing the price.
Well, here it is, The New LINX PRO+ TABBER!
The LINX PRO+ TABBER provides improved production, reduced operator interfacing, better ROI and gives the customer the ability to "customize" their Tabber the way they want it. They can now add the options they want.
Features / Benefits
Single 19" Spool
Simplified web threading (reduces "down time" for spool changes)
Can easily apply 1.5" tabs (per new USPS specifications)
Patented "Twist-Belt" sealing assembly
Tightest and most accurate tab placement on the market
Able to place one to four (1-4) tabs in a single pass
New control module provides accurate placement of tabs to 1/8th inch
Placement of tabs, stamps, labels, and Post-it Notes. (Post-it Notes require installation of optional 4.5" label kit)
Air fed Venturi (Waste web removal unit)
Self Calibrating Tab Sensor
Improved and easily upgradeable software
Estimated throughput = 30k pieces per hour (See Specification)
Operator-friendly equipment is easy to use
Over 2,500 Profold Tabbers in service today
Options
Available in Head & Foot configuration
Height Adjustable Transport Table
Bump-turn units – Both entry and exit units are height adjustable
On-board air pumps for Venturi (if shop air not available)
Rewind Unit (Waste web removal unit)
6" color touch screen
Remote diagnostic capability
Bi-lingual operator instructions (requires 6" touch screen)
4.5" Label Kit
220v Electrical Configuration
Specifications
Product Sizes: Min. 3" x 6" Max. 9" x 12"
Estimated Throughput: (product dependant)

30k pph (two 1" tabs)
If bump-turn used, throughput (pph) is effected (Product dependant)

Pass-line Height:

Standard-34.5"
With Height Adj.

Product Thickness: Tabbing 5/16" | Labeling 5/16"
New Digital Key Pad
Power: 220 VAC - Single Phase
Dimensions: 65" High, 44" Long, 37" Wide
Standard Spool: 19" Spool
Standard Stripper: 2"
Optional Stripper: 4.5" Label Ext. Kit
Reviews