PROFOLD RAPID SPOOL CHANGE Tabbing, Wafer Seal Machine Model PRO PLUS II RH Right Hand Pro+ II RSC Floor Model Tabber Tabbers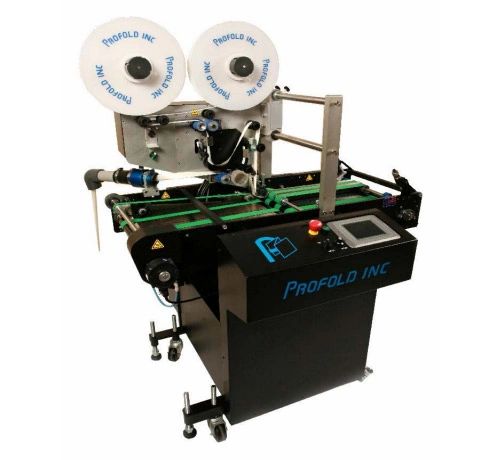 PROFOLD RAPID SPOOL CHANGE Tabbing, Wafer Seal Machine Model PRO PLUS II RH Right Hand Pro+ II RSC Floor Model Tabber Tabbers
*** CONTACT US TO CONFIRM THE CURRENT PRICE AND THE MODEL AVAILABILITY FOR SALE!

PROFOLD PRO PLUS 2 'RSC' Rapid Spool Change Tabber Wafer Seal Machine. New Right Handed Unit. High Speed floor model tabbing for inline operations.
Applies Tabs, Wafer Seals, Stamps, Labels, and Post-It Notes. No height adjustment but includes casters. Two 13" Spools with less than 20 Second Change Time!
Requires a separate feeder. Also requires build time. PLEASE CONTACT US FOR OUR LATEST DISCOUNT PRICE !
PRICING IS FOR LOCAL PICKUP ONLY - CONTACT US TO CALCULATE SHIPPING TO YOUR LOCATION. MANY OPTIONS LISTED UNDER ' NEW PARTS '.
The RSC or Rapid Spool Change Tabber is named for reducing the time that is required to change spools and for providing an additional spool of tabs. This new Tabber will provide the operator "continuous" tab placement, which will be able to produce 30,000 (single tab) pieces per hour.
With the new 6" Color Touch Screen, production set-up and operation has been made simple and quick for your operators. it will reduce overall set-up time and will improve the safety of operating this unit.
With the option of having the operating instructions in Spanish, as well as in English, the RSC provides better communication and understanding for the user, thereby eliminating many "miss-communications/understandings" that can often happen in the process of translation.
The RSC Tabber offers the mail-handling industry new and exciting upgrades and options while maintaining our expertly designed functionality with shop-proven reliability that our customers have come to rely upon. The RSC delivers continuous tab and web feeding with an unrestricted number of tabs available for placement. This provides the operator with the ability to pre-load a second spool and attach it safely to the first spool for more production with little or no down time.
The electronics on the RSC have been updated and are now more "intuitive" than before making it much more "operator friendly". The new system can store up to 100 job set-ups, the units of measurement can be changed as needed to Inches or Metric and are more industry compatible.
Features / Benefits
Provides cost effective tabbing technology.
Bi-Lingual Operator Instructions- Currently in English and Spanish
Increase production time by at least one hour per day
Dual Spools provide greater number of tabs available for production
Greater throughput = faster job turn around on time-sensitive mailings
Able to store over 100 jobs for repetitive jobs
Has simplified threading path that reduces down time for spool changing
Six inch color touch screen monitor
Lower cost due to:

Lower manual labor requirements
More ergonomically correct, reducing worker's compensation and insurance claims.
Applies tabs, labels, stamps and post-it notes

Operator-friendly equipment is easy to use.
Apply 1 to 8 tabs in one pass
Tightest and most accurate tab placement on the market
Able to place clear tabs tighter due to "TWIST-BELT" function
Patented "Twist-Belt" sealing function provides tightest tab seal
Has new Venturi for offloading web
Improved security levels
Reduced set up time
Warranty: One year on all Profold parts excluding consumables
Options
2 ½ " or 4 ½ " Label Extension Kits
In line high-speed tabbing, folding and addressing systems; GPS 4000, FPS 2000.
Spare Parts Kit
*Higher throughput is possible depending on the physical dimensions of the mailpiece or product. The RSC can apply tabs on smaller product than the minimum stated with factory approval and set-up. Please call to set-up test run using your product
The RSC Tabber offers the best ROI for a production tabber available on the market today.
Specifications
Products Sizes: Min. 3" x 6" Max. 9" x 12"
Through-put: 30k pieces per hr. (two tabs)
Pass-line Height: 34.5" – 38.5"
Product Thickness: Tabbing 5/16" | Labeling 5/16"
Power: 220 VAC - Single Phase
Dimensions: 65" High, 44" Long, 37" Wide
Venturi: 12 to 15 psi required
13.5" Spools (2) - 40k 1" Tabs
Optional 19" Spools - 80k 1" Tabs
6" Color Touch Screen Monitor
Able to store 100+ job set-ups
Bi-Lingual - Instructions in English & Spanish
Reviews