PROFOLD PRO PLUS 2 Tabbing, Wafer Seal Machine HEAD & FOOT SYSTEM Floor Model Tabber Master / Slave Dual Tabbers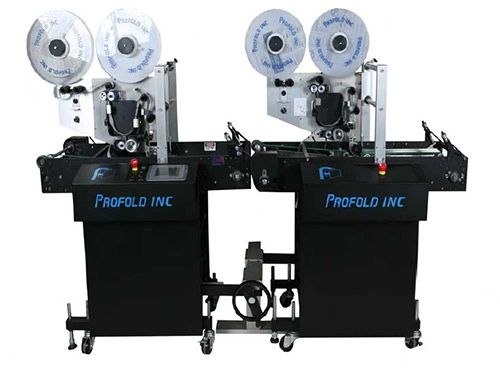 PROFOLD PRO PLUS 2 Tabbing, Wafer Seal Machine HEAD & FOOT SYSTEM Floor Model Tabber Master / Slave Dual Tabbers
PROFOLD PRO PLUS II MASTER & SLAVE ( Head & Foot ) Tabbing Wafer Seal System. High Speed floor model tabbing system for inline operations.
Requires a separate feeder. Also requires build time. PLEASE CONTACT US FOR OUR LATEST DISCOUNT PRICE !
PRICING IS FOR LOCAL PICKUP ONLY - CONTACT US TO CALCULATE SHIPPING TO YOUR LOCATION. MANY OPTIONS LISTED UNDER ' NEW PARTS '.
This system provides tab placement on both the head (top) and foot (bottom) of products in a single pass and has been in use for over seven years. Head & Foot Systems are now available in two configurations, Linx Pro+ or RSC. The system comes standard with two Standard Tabbers. Height Adjustable Tabbers must be special ordered and will provide the same level of excellence in performance with more flexibility in pass-lines. There are some added benefits when the RSC Tabbers are used in place of the Linx Pro+, but both offer the highest throughput in the industry.
Profold's Head-To-Foot Tabber Systems are designed to provide in-line production for tabbing the head and foot of mail products in a single pass. The Head & Foot Tabbers can be operated as a system or the Master unit can be removed to operate as a stand-alone unit. The integrated docking station permits easy setup for various size products while providing improved production time, reduce operator interfacing and a quick ROI.
Features / Benefits
Only Industry proven Head & Foot Tabbing System
Over seven (7) years of reliability and production service
Proven, cost effective, industry leading tabbing technology
Increased production time with less "down-time" for maintenance
Able to consistently place 1-4 tabs on a product in a single pass
Tightest sealed tabs in industry with patented "Twist-Belt" assembly
Comes ready to run 1 1/2" tabs as directed in new USPS "Letter Size Booklet Standards" effective September 2009
Master unit can be taken off-line and operated as a Stand Alone unit
Operator can control system from Master unit
Tabbers accurately place tabs, stamps, labels, and Post-it notes. (Post-it notes will require optional adaptor kit)
Electronic controller controls accurate tab placement
Throughput = Approximately 20k to 25k pph with new 1.5" tabs
(Product Dependant)
Integrated electronics- One E-Stop function provides greater safety
Mechanically linked by integrated "Docking" station:

Provides quick set-up changes for different product sizes
Operator-friendly equipment is easy to use.
Venturi for offloading webbing
Optional web rewind unit (Linx Pro+ only)
Over 2,500 Profold Tabbers in service today
Warranty: One year on all Profold parts excluding consumables
Specifications:
Product Sizes:
Min. 3" x 6"
Max. 9" x 12"
Through-put
30k pieces per hr. (two 1" tabs)
Appoximenty-25k with 1.5" tabs (Product Dependant)
Through-put will be effected by adding a bump-turn unit
Pass-line Heights:
Std. Linx Pro+ or RSC
Height Adjustable
Maximum Product Thickness:
Tabbing 5/16"
Labeling 5/16"
Power
115 VAC 20 Amp
Single Phase
Dimensions: (Linx Pro+)
73" High
108" Long
32" Wide
The Profold Head & Foot Tabber Systems are the ONLY industry proven system on the market today.
Don't settle for an unproven solution for your Head & Foot Tabbing applications when you can go with the proven industry leader in Tabbing Technology - Profold, Inc
Reviews