PROFOLD INSERTER FRICTION FOLDER FEEDER Model 1100 Folders Feeders Right Hand 404052 PF1100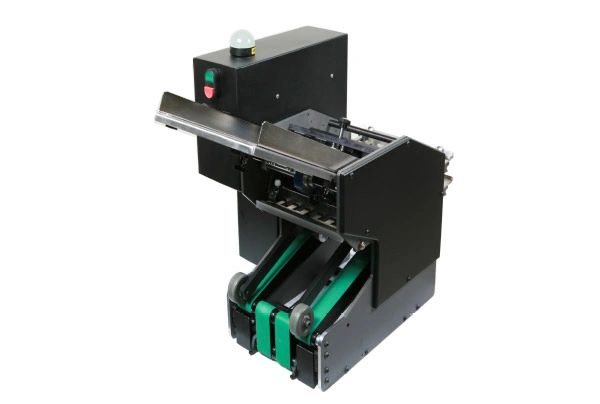 PROFOLD INSERTER FRICTION FOLDER FEEDER Model 1100 Folders Feeders Right Hand 404052 PF1100
*** CONTACT US TO CONFIRM THE CURRENT PRICE AND THE MODEL AVAILABILITY FOR SALE!

PROFOLD INSERTER FRICTION FOLDER / FEEDER Model 1100 Right Hand P/N 404052-RH PF-1100
Requires build time. PLEASE CONTACT US FOR OUR LATEST DISCOUNT PRICE !
PRICING IS FOR LOCAL PICKUP ONLY - CONTACT US TO CALCULATE SHIPPING TO YOUR LOCATION.
The PF-1100 Feeder/Folder is a unique machine designed to save labor and eliminate the bindery step by folding flat stock and delivering it directly into an inserter hopper. This unit fits easily on the inserter hopper table of most conventional A-Frame inserters and requires no additional floor space.
The PF-1100 does not require a separate operator, it's front loading design allows one operator to handle both the inserter and folder. Because the PF-1100 comes in both a left and right version, four units can be mounted on a six-station inserter. The PF-1100 allows the operator to run the inserter continuously without stopping it for product reloading.
Specifications
Product Sizes: Min. 6" x 7" / Max. 8.5" x 14"
Paper Weights- 16lbs. To 60lbs
Dimensions-19" H x 25" W x 23" L
Right & Left Hand Units
Throughput- 10k pph

Based on standard 24lbs.- 8.5" x 11" uncoated paper
Application
Streamline the process of inserting folded sheets into an inserter by eliminating the bindery step
Features / Benefits
Eliminates the need to route flat stock to bindery for folding before inserting
Increases your production time
Reduces operator intervention
Capable of doing, letter, single, Z or double parallel folds
Automatic demand hopper monitored with optic sensor
Fits directly into slot on most swing arm inserters
24/7 production capabilities
Patented grooved rollers provide tighter folds
Reviews