PROFOLD DESKTOP FRICTION FOLDER Elite 500 QV Quite Vacuum Compact 404320 500QV Folders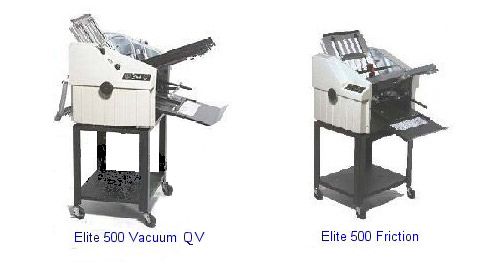 PROFOLD DESKTOP FRICTION FOLDER Elite 500 QV Quite Vacuum Compact 404320 500QV Folders
*** CONTACT US TO CONFIRM THE CURRENT PRICE AND THE MODEL AVAILABILITY FOR SALE!

PROFOLD DESKTOP 110V QUITE VACUUM FRICTION FOLDER Table-Top Model ELITE 500 QV Optional Floor Stand - See item 138599-2 ($500 when purchased with folder)
220 Volt Model also available for an additional $200.00. Also see 500QV Optional items Part Numbers 134308 , 239087-2 , 134001-11 , and 134001-14
Requires build time. PLEASE CONTACT US FOR OUR LATEST DISCOUNT PRICE !
PRICING IS FOR LOCAL PICKUP ONLY - CONTACT US TO CALCULATE SHIPPING TO YOUR LOCATION.
Profold's tabletop folders provide big machine performance at tabletop prices. The product line consists of one vacuum feed and one friction feed model. All have bottom feeding top loading design for continuous use.

SUPER ELITE 500 QV VACUUM FOLDER
The Super Elite 500 QV model fold rollers are made of proprietary urethane material that gives the rollers longer life. The main roller is grooved in a manner that forces laser toner and ink to the sides of the rollers thereby reducing roller clean-up time. It also reduces marking on most folded product and allows trapped air caught between the paper and the roller to escape providing a tighter fold. The roller material has a better gripping surface for handling a wide variety of media substrate.
The Super Elite 500 QV has skewable paper side guides, a Profold first, that are designed to allow skewing of the guides to compensate for variance in the 'squareness' of the paper stack. Skewing the paper side guides to maintain a square fold is much more effective than adjusting the fold plate paper stop. Micro adjusting screws allow adjustments to be made while the folder is running. The Super Elite 500 QV can feed and fold up to 20,000 to 30,000 sheets per hour in tri-fold or half-fold formats.
The New QV has a new, built in vacuum pump that reduces the overall noise level by 90% and allows for placement of this unit in environments where noise is a concern to the customer
Reviews