PROFOLD ACCUMULATOR FEEDER FOLDER Model 106 In-Line Feeders Folders 320200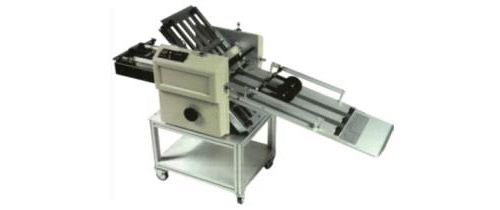 PROFOLD ACCUMULATOR FEEDER FOLDER Model 106 In-Line Feeders Folders 320200
*** CONTACT US TO CONFIRM THE CURRENT PRICE AND THE MODEL AVAILABILITY FOR SALE!

PROFOLD ACCUMULATOR FEEDER FOLDER Model 106 In-Line Part Number 320200 Optional Floor Stands Available. Product is received from an upstream device.
Requires build time. PLEASE CONTACT US FOR OUR LATEST DISCOUNT PRICE ! ( Also see Part Number 34322 Laser Printer Interface Unit )
PRICING IS FOR LOCAL PICKUP ONLY - CONTACT US TO CALCULATE SHIPPING TO YOUR LOCATION.
The Profold Model 106 is an in-line accumulator/folder. It is an excellent in-line companion for laser printers, bursters, collators, and continuous form cutters. The folder section is equipped with Profold's proprietary "Prothane" fold rollers. "Prothane" rollers have no affinity to laser or copier toner, providing longer roller life.
The Model 106 accumulator/folder will count, accumulate and fold a maximum of six sheets letter-folded or ten sheets half-folded (8 ½" x 11" - 20 lb. Stock).
The Model 106 will accept sheets of stock from 8 ½" x 11" to 11" x 17". It can handle stapled or non-stapled sets. The two-fold plates will produce Letter, Half, "Z" or Double Parallel folds. The Model 106 operates at a maximum throughput speed of 5,000 sets per hour (three sheets of 8 ½" x 11" paper folded in any of the above fold configurations). The folder section is capable of folding various set sizes of pre-collated sheets under two fold roller gap-set settings.
Features / Benefits
Capable of accepting sheets of stock from 8 1/2" x 11" to 11" x 17".
Handles leading edge corner stapled sets or non-stapled sets.
Batch Counter counts the number of sheets accumulated per set, prior to folding.
Proprietary "Prothane" fold rollers have no affinity to laser or copier toner, providing longer roller life.
Equipped with fold roller gap set system. This feature makes it capable of handling a variable number of sheets with a simple adjustment
Warranty: One year on all Profold parts excluding normal wear parts
Options
Special stands are available to meet your paper pass line requirements.
Printer Interface captures paper from a printer and accelerates this output for delivery into the Model 106.
Spare Parts Kit
Reviews