FORMAX SHREDDER OFFICE FD 8400HS-1 Cross-Cut FD8400HS-1 Cross Cut Shredders High Security Level 6 Auto Oiling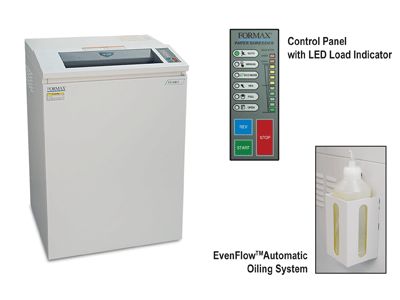 FORMAX SHREDDER OFFICE FD 8400HS-1 Cross-Cut FD8400HS-1 Cross Cut Shredders High Security Level 6 Auto Oiling
*** CONTACT US TO CONFIRM THE CURRENT PRICE AND THE MODEL AVAILABILITY FOR SALE!

SHREDDER OFFICE Formax Model# FD 8400HS-1 HIGH SECURITY LEVEL 6 New.  Floor Standing Office Operation. Cross Cut STYLE. AUTO OILING.
NSA Level 6 High Security
AutoStart/Stop/Reverse
LED Control Panel
Shred size: 1/32" x 3/16"
All-metal cabinet
EvenFlow Automatic Oiling System
Energy-saving ECO Mode
Formax 
FD 8400HS-1 High Security Office Shredders
 offer Level 6 security with commercial-grade components in a sleek, practical design. An easy-to-use LED control panel puts the power right at your fingertips.
The FD 8400HS-1 shreds up to 7 sheets at once, up to 23 feet per minute, with a shred size of 1/32" x 3/16".
The FD 8400HS-1 has been evaluated by the NSA and meets the requirements of NSA/CSS specification 02-01 for Level 6 high security cross cut shredders.
The EvenFlow™ Automatic Oiling System is standard on the FD 8400HS-1, and periodically lubricates the cutting blades based on motor run time, keeping the shredder in peak operating condition. In addition, the new ECO mode saves energy by automatically switching into standby mode after 5 minutes of inactivity.
PRICING IS FOR LOCAL PICKUP ONLY - CONTACT US TO CALCULATE SHIPPING TO YOUR LOCATION.

Reviews