FORMAX SHREDDER Industrial Conveyor FD 8904CC Cross-Cut FD8904CC Cross Cut Shredders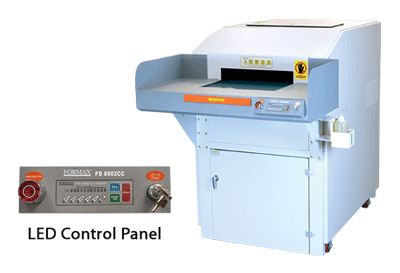 FORMAX SHREDDER Industrial Conveyor FD 8904CC Cross-Cut FD8904CC Cross Cut Shredders
*** CONTACT US TO CONFIRM THE CURRENT PRICE AND THE MODEL AVAILABILITY FOR SALE!

SHREDDER Formax INDUSTRIAL CONVEYOR Model# FD 8904CC New.  Floor Standing Office Operation.   Contact for machine additional options available. Cross Cut STYLE.
High-capacity
Up to 650 sheets at once
LED Control Panel
Shreds entire files & more
Automatic Oiling System
Optional output conveyor
The
 Formax FD 8904CC Industrial Shredder
 offers high capacity for shredding large volumes of material, and can serve the needs of an entire organization. It's powerful enough to shred just about anything including entire files, stacks of computer forms, cardboard, tapes, CDs and magnetic disks.
The FD 8904CC Cross-Cut model can shred up to 650 sheets at once, up to 35 feet per minute, with a shred size of 5/16" x 1 1/2" - 3". Features include an LED Control Panel with digital load indicator, Auto Start/Stop, Auto Reverse and Auto Cleaning, and front waste bin access, to allow for placement against a wall.
The newly-redesigned waste bin has two side-by-side compartments. This makes the waste bin much easier to empty with two smaller canvas bags instead of one large bag. The waste bin is also easier to slide in and out of the shredder, thanks to high-quality guide rollers on both sides of the internal frame. The original single-compartment waste bin is still available as an option.
The 
EvenFlow

TM

 Automatic Oiling System
 is a standard feature which lubricates the all-steel cutting blades, helping to keep the shredder in peak operating condition.
In addition, an optional Ouput Conveyor Belt System is available for the FD 8904CC which transports material out of the shredder and into an external waste bin, increasing capacity and decreasing down time between emptying and replacing the waste bin.
PRICING IS FOR LOCAL PICKUP ONLY - CONTACT US TO CALCULATE SHIPPING TO YOUR LOCATION.

Reviews