FORMAX SHREDDER Baler Industrial Conveyor FD 8904B Cross-Cut FD8904B Cross Cut Shredders Balers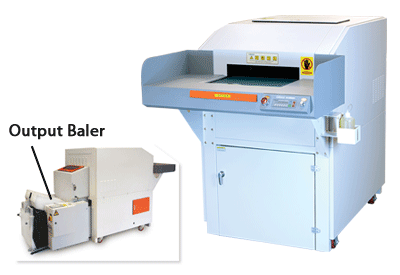 FORMAX SHREDDER Baler Industrial Conveyor FD 8904B Cross-Cut FD8904B Cross Cut Shredders Balers
*** CONTACT US TO CONFIRM THE CURRENT PRICE AND THE MODEL AVAILABILITY FOR SALE!

SHREDDER AND BALER Formax INDUSTRIAL CONVEYOR Model# FD 8904B New.  Floor Standing Office Operation.   Contact for machine additional options available. Cross Cut STYLE.
High-capacity
Output Baler
Up to 650 sheets at once
LED Control Panel
Shreds entire files & more
Automatic Oiling System
The Formax 
FD 8904B Industrial Shredder
 offers high capacity for shredding large volumes of material, and can serve the needs of an entire organization. It's powerful enough to shred just about anything including entire files, stacks of computer forms, cardboard, tapes, CDs and magnetic disks.
The FD 8904B Cross-Cut model can shred up to 650 sheets at once, up to 35 feet per minute, with a shred size of 5/16" x 1 1/2" - 3".
The FD 8904B combines the power and features of the FD 8904CC with an Output Baler for convenient disposal of shredded material. The Baler continually compacts shredded material into a bale, which is easily ejected into a plastic bag for clean, easy disposal.
The 
EvenFlow

TM

 Automatic Oiling System
 is a standard feature which lubricates the all-steel cutting blades, helping to keep the shredder in peak operating condition.
PRICING IS FOR LOCAL PICKUP ONLY - CONTACT US TO CALCULATE SHIPPING TO YOUR LOCATION.

Reviews