FORMAX FD260 Crash Tabber, Wafer Seal machine Table Top Tabbing Machine Tabs 1" or 1.5" Accufast KT Type Tabbers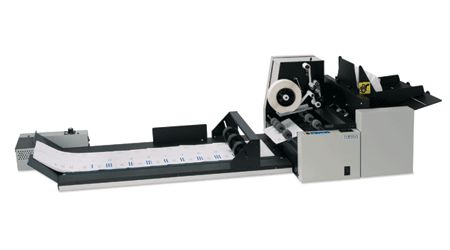 FORMAX FD260 Crash Tabber, Wafer Seal machine Table Top Tabbing Machine Tabs 1" or 1.5" Accufast KT Type Tabbers
FORMAX HAS DISCONTINUED THIS LINE - **** PLEASE CONTACT US FOR CURRENT ASKING PRICE AND TO CONFIRM IF IT IS STILL AVAILABLE  ****
FD260 Formax Single Crash Table Top Tabber.  New.  High Speed tabbing for Table-Top operations. (ACCUFAST KT DESIGN) Applies either a 1" or 1.5" Tab per pass.
ABOVE PHOTO SHOWS THE OPTIONAL FEEDER AND CONVEYOR - EACH SOLD SEPARATELY. Search Add-On items FD260-10, FD260-20, and FD260-30
Requires a separate feeder to operate. Also requires build time.  PLEASE CONTACT US FOR OUR LATEST DISCOUNT PRICE !
The Formax FD 260 Tabbing System makes quick work of applying postal tabs to folded mailpieces. The base unit is available with an optional Feeder and Output Conveyor.

With postal regulations changing, having a dependable and efficient tabber can make your mailings compliant with very little effort. The FD 260 tabs up to 15,000 pieces per hour, using a variety of tab stocks including clear, translucent and paper, in sizes from 1" to 1.5". The built-in waste take-up spool reduces down-time.

With the addition of the optional FD 260-10 Feeder, operators can input a stack of up to 8" of material to be tabbed. Adjustable side guides prevent document skewing. The optional FD 260-20 Output Conveyor offers adjustable speed from 0 - 120 fpm, and stacks tabbed pieces in sequential order at the end for easy removal.

Using "crash tab" technology, the edge of the mailpiece is fed into the FD 260 where it contacts an adhesive tab and travels through a set of rollers where the tab is neatly folded and sealed, creating a mail-ready piece. Accuracy is also key, as the tabs fold tight to the edge of the piece, without drifting from left to right
Speeds of up to 15,000 pieces per hour. 
PRICING IS FOR LOCAL PICKUP ONLY - CONTACT US TO CALCULATE SHIPPING TO YOUR LOCATION.

Reviews