FORMAX FD 402TA1 JOGGER Single Paper Bin 12" X 18" Table Top FD402TA1 Joggers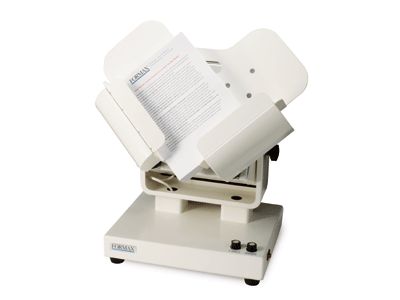 FORMAX FD 402TA1 JOGGER Single Paper Bin 12" X 18" Table Top FD402TA1 Joggers
*** CONTACT US TO CONFIRM THE CURRENT PRICE AND THE MODEL AVAILABILITY FOR SALE!

FD 402TA1 Formax JOGGER Single Paper Bin New. TABLE-TOP up to 12" X 18"
PLEASE CONTACT US FOR OUR LATEST DISCOUNT PRICE.
Align, dry & remove static
Compact & powerful
Variable speed, air pressure
Paper size up to 12" x 18"
Up to 940 sheets 20#
The
FD 402TA1 High-Capacity Air Jogger
features improved ergonomics and a contemporary color scheme, and is ideal for print shops and production houses. This upright air jogger aligns and dries printed sheets as a single process, while removing static electricity. Variable vibration speed and air pressure controls combine to reduce jogging time, allowing press sheets and digital printouts to be air-dried immediately.
Its V-shaped jog bin allows for jogging a criss-cross stacked pile of papers, while the vertical to horizontal tilt feature helps keeps large paper stacks from bending. With a capacity of up to 940 sheets, standard or foot pedal operation, and all-metal construction, the FD 404A1 is an ideal piece of equipment for any print shop.
PRICING IS FOR LOCAL PICKUP ONLY - CONTACT US TO CALCULATE SHIPPING TO YOUR LOCATION.

Reviews