FORMAX FD 402E2 JOGGER Two Bin Paper 4" X 9.5" Free Standing FD402E2 Joggers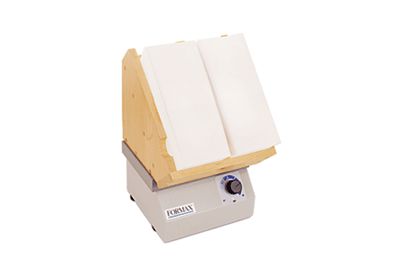 FORMAX FD 402E2 JOGGER Two Bin Paper 4" X 9.5" Free Standing FD402E2 Joggers
***THIS MODEL IS CURRENTLY SOLD OUT. CONTACT US TO CONFIRM THE PRICE AND THE MODEL AVAILABILITY FOR SALE!

FD 402E2 Formax JOGGER Two Paper Bin New. Free Standing Up to 4" X 9.5"
PLEASE CONTACT US FOR OUR LATEST DISCOUNT PRICE.
Aligns & reduces static
Variable speed
Up to 1,750 sheets 20#
The FD 402E2 Two-Bin Envelope Jogger quickly settles the contents of incoming mail prior to opening with an automated envelope opener. It's also ideal for aligning checks and statement stubs for further processing in a banking environment.

Its solid state switch controls on/off and vibration speeds, up to 4,000 per minute. Electromagnetic design allows for continuous operation, while the slotted clean-outs allow paper dust, staples, paper clips and other debris to exit the jogging bin.

PRICING IS FOR LOCAL PICKUP ONLY - CONTACT US TO CALCULATE SHIPPING TO YOUR LOCATION.

Reviews