FORMAX FD 215S CREASER Semi Automatic FD215S Electric Paper Creasers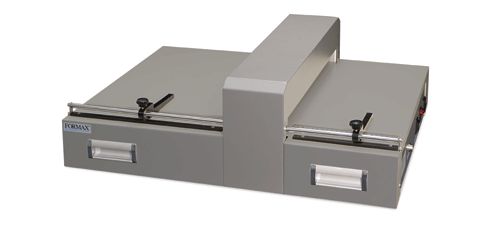 FORMAX FD 215S CREASER Semi Automatic FD215S Electric Paper Creasers
*** CONTACT US TO CONFIRM THE CURRENT PRICE AND THE MODEL AVAILABILITY FOR SALE!

CREASER FORMAX SEMI-AUTOMATIC Electric Model FD215S New. For Floor Standing Operation.
Prevents cracking in toner-based digital printouts
Semi-automatic operation
All-metal construction
The FD 215S Semi-Automatic Paper Creaser offers easy setup with push-button or hands-free foot pedal operation. Creasing prevents tearing and cracking in toner-based digital printouts, providing a clean professional look, and making it easier for folding devices to fold with accuracy.

The FD 215S features all-metal construction, easily adjustable paper stops, and is ideal for small print shops or businesses. Common applications include greeting cards, postcards, brochures, invitations, CD covers, and more.

PRICING IS FOR LOCAL PICKUP ONLY - CONTACT US TO CALCULATE SHIPPING TO YOUR LOCATION.

Reviews