FORMAX FD 210M CREASER Manual Paper 18" FD210M Creasers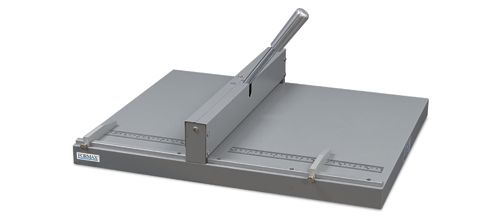 FORMAX FD 210M CREASER Manual Paper 18" FD210M Creasers
*** CONTACT US TO CONFIRM THE CURRENT PRICE AND THE MODEL AVAILABILITY FOR SALE!

CREASER FORMAX Manual Paper 18" Model FD210M New. For Table-Top Operation.
Prevents cracking in toner-based digital printouts
Easy setup & operation
All-metal construction
The
FD 210M Manual Paper Creaser
is easy to use: simply adjust the paper stops, load paper and press down on the creasing handle. Creasing prevents tearing and cracking in toner-based digital printouts, providing a clean professional look, and making it easier for folding devices to fold with accuracy.
The FD 210M features side guides that are quickly and easily adjusted and a clearly-marked indicator scale for accurate positioning of each crease. Simply adjust, load paper and crease; it's that easy.
Common applications include greeting cards, postcards, brochures, invitations, CD covers and more.
PRICING IS FOR LOCAL PICKUP ONLY - CONTACT US TO CALCULATE SHIPPING TO YOUR LOCATION.

Reviews