Eagle 800 Automatic STRAPPING MACHINE Poly Strap 9MM (3/8") to 12MM (1/2") Mailing Design Strapper Strappers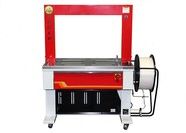 Eagle 800 Automatic STRAPPING MACHINE Poly Strap 9MM (3/8") to 12MM (1/2") Mailing Design Strapper Strappers
***THIS MODEL IS CURRENTLY SOLD OUT. CONTACT US TO CONFIRM THE PRICE AND THE MODEL AVAILABILITY FOR SALE!

Eagle 800 AUTO STRAPPING MACHINE with 33.4" X 23.6" Arch (For mail trays). Designed for the Mailing Industry
Available in 9MM (3/8") to 12MM (1/2") width strapping. ONLY STRAPPER IN THE INDUSTRY WITH A '2-Year' Parts Warranty (excludes consumable parts)! Delivery on this product is dependent upon stock availability and may take weeks for back order processing. Build / assembly time is required
The Eagle 800 is an enhanced automatic strapping machine for wide straps (9mm - 12mm). With its enhanced features, the Eagle 800 has the best price to performance ratio of products in its class. • Self-Threading • Short Feed Sensor • Strap End Ejector • Loop Ejector (Anti-Jam Feature) • Electronic Tension • Stainless Steel Table Tops • Manual Push Button, Automatic Table Switch or Foot Switch

Power Supply 110VAC/60Hz Minimum Carton Size (W × H) 4" x 2" Standard Arch Size (W × H) 33.4" x 23.6" Tabletop Height 31.88" Core Size 8" x 8" Tension 5 to 154 lbs Machine Dim. (L × W × H) 56" x 24" x 60.6" Strapping Speed 29 straps per minute

PRICING IS FOR LOCAL PICKUP ONLY - CONTACT US TO CALCULATE SHIPPING TO YOUR LOCATION.

PLEASE CONTACT US FOR OUR LATEST DISCOUNT PRICE !
Reviews