Eagle 710 LA (Large Arch) Automatic STRAPPING MACHINE Poly Strap 5 and 6MM (1/2") Mailing Design Strapper Strappers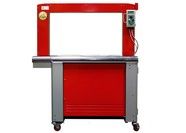 Eagle 710 LA (Large Arch) Automatic STRAPPING MACHINE Poly Strap 5 and 6MM (1/2") Mailing Design Strapper Strappers
***THIS MODEL IS CURRENTLY SOLD OUT. CONTACT US TO CONFIRM THE PRICE AND THE MODEL AVAILABILITY FOR SALE!
Eagle 710LA AUTO STRAPPING MACHINE with Large Arch (For mail trays). Designed for the Mailing Industry - This is our BEST SELLING AUTO POLY STRAPPER !
Available in 5/6MM (1/2") and 9MM (3/8") width strapping unit available at additional cost. ONLY STRAPPER IN THE INDUSTRY WITH A '2-Year' Parts Warranty (excludes consumable parts)! Delivery on this product is dependent upon stock availability and may take weeks for back order processing. Build / assembly time is required
Power Supply 110VAC/60Hz
Minimum Carton Size (W × H) 2.75" x 0.75"
Standard Arch Size (W × H) 28" x 20"
Tabletop Height 32.75"
Core Size 8" x 8"
Tension 2.5 - 70.5 lbs
Machine Dim. (L × W × H) 37" x 45.5" x 56"
Strapping Speed 65 straps per minute
PRICING IS FOR LOCAL PICKUP ONLY - CONTACT US TO CALCULATE SHIPPING TO YOUR LOCATION.

PLEASE CONTACT US FOR OUR LATEST DISCOUNT PRICE !
Reviews