Eagle 710 Automatic STRAPPING MACHINE Poly Strap 5 MM (1/2") Mailing Design Strapper Strappers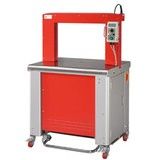 Eagle 710 Automatic STRAPPING MACHINE Poly Strap 5 MM (1/2") Mailing Design Strapper Strappers
***THIS MODEL IS CURRENTLY SOLD OUT. CONTACT US TO CONFIRM THE PRICE AND THE MODEL AVAILABILITY FOR SALE!

Eagle 710 AUTO STRAPPING MACHINE Standard Arch 26"W X 20" High. Designed for the Mailing Industry
Available in 5MM (1/2") width strapping. ONLY STRAPPER IN THE INDUSTRY WITH A '2-Year' Parts Warranty (excludes consumable parts)! Delivery on this product is dependent upon stock availability and may take weeks for back order processing. Build / assembly time is required
Power Supply 110VAC/60Hz Minimum Carton Size (W × H) 2.75" x 0.75" Standard Arch Size (W × H) 26" x 20" Tabletop Height 32.75" Core Size 8" x 8" Tension 2.5 to 70.5 lbs Machine Dim. (L × W × H) 37" x 26.5" x 56" Strapping Speed 65 straps per minute.

The Eagle 710 is an innovative world-class high-speed automatic strapping machine capable of using 5mm, 6mm, 9mm or 12mm polypropylene strap. It offers optimal performance, highest speed, easiest maintenance and the most cost effective solution in its class. The Eagle 715 & 702 series use the latest DC brushless motor technology to provide the highest level of accuracy and reliability on the market. All motors are German-made. The strapping head has no belts, clutches or pulleys. It is designed with up-to-date technology with minimal moving parts. With 30% fewer parts, the Eagle 715 & 702 series strapping machines require fewer adjustments, less maintenance, and has fewer wear components. • LCD Screen Display • Self-Threading • Low and High Tension Settings • Loop Ejecter for Jam-Free Operation • Waist High Coil Changer with Quick Release • Tool-Free General Maintenance

PRICING IS FOR LOCAL PICKUP ONLY - CONTACT US TO CALCULATE SHIPPING TO YOUR LOCATION.

PLEASE CONTACT US FOR OUR LATEST DISCOUNT PRICE !
Reviews