BELT TURNOVER INLINE STAND ALONE Pitney Bowes DMS (Sure-Feed Design) Turnovers 110V FYY2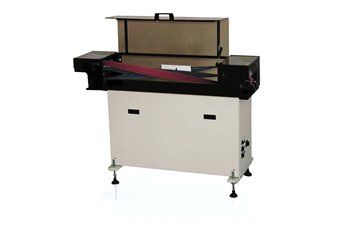 BELT TURNOVER INLINE STAND ALONE Pitney Bowes DMS (Sure-Feed Design) Turnovers 110V FYY2
*** CONTACT US TO CONFIRM THE CURRENT PRICE AND THE MODEL AVAILABILITY FOR SALE!

Pitney Bowes BELT TURNOVER Stand Alone Sure-Feed Design Part Number FYY2 Additional crating charges may apply.

The Belt Turnover is the machine you need for product reorientation from your in-line inserter.

The Belt Turnover available in either a 6" x 9" or 10" x 13" model is equipped with 2 1/4" wide grip gum belts (helping to handle glossy products) clear durable lexan covers and an extended support rod providing greater control (up to 11" wide material). Adjustable belts are included to increase belt to product friction helping eliminate "slip feeding".
Our Belt Turnover comes with an open cover sensor which automatically shuts the machine down if opened. All Belt Turnovers include a limited 2-year warranty.
Options
Left to right or right to left product output capabilities.
Applications
Product turns to create an in-line application.
Feedable Material
Flats Postcards #10 Envelopes Folderd Booklets.
Benefits
Infeed is adjustable for thick or thin products
Variable speed for hard to control products
Easy integration
Quick set up
Contact us first to confirm product compatibility. PRICING IS FOR LOCAL PICKUP ONLY - CONTACT US TO CALCULATE SHIPPING TO YOUR LOCATION.

PLEASE CONTACT US FOR OUR LATEST DISCOUNT PRICE !

Reviews